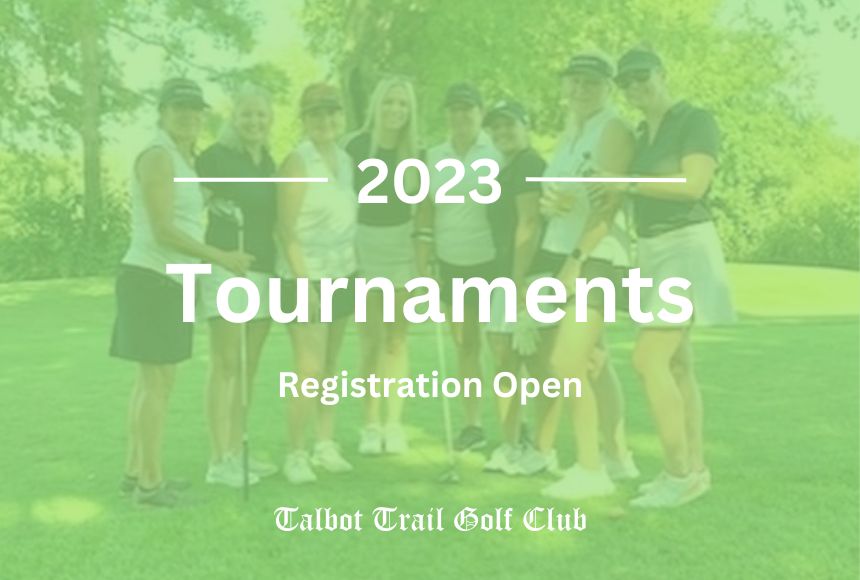 Pre-Registration Open for 2023 Tournaments
Talbot Trail Golf Club is excited to announce that pre-registration is now open for many of the tournaments already scheduled for this summer.
Details and fees are being confirmed with all tournament convenors. As such, this is the pre-registration phase. Once all the details are finalized, all registrants will be contacted. Please note that with many of our annual events, registration priority will be given to those that have played in the past. Your registration is not confirmed until your entry fee has been collected.
We have some new tournaments on the calendar for this summer as well as many returning favourites.
All events open to the public are found below. To view all currently available tournaments and get links to the registration pages, please visit https://talbottrailgolfclub.com/events/upcoming-events/category/golf-tournament/
---
June Tournaments
June 10th – IT Tournament
June 18th – Sharks Scramble
June 24th – Firefighters Association
July Tournaments
July 15th – The Mavis Shanks Memorial Par-Tee
July 29th – Southpoint Stars Scramble
August Tournaments
April 5th – Couples
April 12th – IT Tournament
April 19th – Women's Invitational
April 20th – Adult/Junior Tournament
April 26th – Jack Stein Men's Invitational
September Tournaments
September 3rd – Wheatly/Tilbury Challenge
September 8th – Ladies District 9 Hole Scramble
September 10th – Wheatley Horticulture Society
September 13th – Doc McLean Senior Men's Invitational
September 30th – Drive Out Breast Cancer
---
If you are considering Talbot Trail Golf Club to be the host facility for your golf tournament, our goal is to ensure a memorable event.
Whether you want to bring your corporate team closer together, raise some money for a good cause or just have a great time with a group of friends, Talbot Trail's staff is ready and able to help plan for your best golf tournament.
Our mission is to provide excellent service, a fun and challenging golf course, superb food and beverage – all at great value! We will strive to make your tournament as successful and stress-free as possible.
For more information, please go to https://talbottrailgolfclub.com/events/book-your-event/